This guide will teach you everything you need to create professional-looking embroidered apparel.
First, you need an image of your logo
Customers who are not photoshop wizards will visit their own web site, right-click over their logo and select Save Image As…
You will end up with a logo file that looks like this one (larger the better). You then upload this file to our site and we will take care of the rest!
Upload your logo and save it into your Corporate Casuals account. Pro Tip: We also accept Tajima DST stitch files if you already have a digitized logo.
Nothing gets stitched without approval
Hitting the Place Order button gets the ball rolling but is only the beginning of the process. Each customer is assigned a dedicated customer service rep who will work with you to make sure your embroidered logo comes out perfect!
Stitch count matters
When you upload a logo we assume that it will require 6000 stitches to reproduce it. This is an average-sized logo and is correct for most customers. Adding backgrounds or lots of fine detail will add stitches.
If after converting your logo to embroidery we determine that more than 6000 stitches are needed we will let you know and adjust the cost accordingly.
Where is the embroidered logo stitched?
Every garment on the site has a standard location where the logo can be placed. Logos are placed on the left chest for jackets and shirts unless there is a brand logo then it goes on the right chest. For custom hats logos are placed in the center front. If you want a different location just let us know in the order notes.
That's pretty much everything most customers will need to know. If you are creating your own artwork or just want to learn more, keep reading…
Danger: Power users only beyond this point!
Embroidery is not print!
Printing uses ink to transfer an image to your shirt, embroidery uses a needle and thread.
Even the finest embroidery thread can't reproduce the same detail as ink print. Notice how large the embroidery thread is compared to the pique fabric in this embroidered polo shirt.
Even though the detail is limited, embroidery provides a unique three-dimensional look that everyone loves. In order to get the best results from embroidery, we have to work around a few limitations…read on.
Fine details are the enemy of good embroidery
This logo contains many fine lines. The green arrow shows a 1/16 inch satin stitch the thinnest we recommend. The red arrow is a run stitch, a single line of stitches. The blue arrow is a satin stitch 1/8 inch wide (recommended).
Notice that the threads in the 1/8 inch (blue arrow) satin stitch are very uniform compared to the 1/16 inch (green arrow) satin stitch. When stitch lengths get short, the weave of the fabric can affect how the stitch looks.
What size should embroidered text be?
The best looking embroidered text lettering starts with a block font that is 1/4 inch tall. This image shows our block and fancy font from the design studio. Notice that the font stroke is no less than 1/16 inch which is a key element in having the text stitch well.
The following picture shows why text size is so important. The red/black logo is 1/4 inch tall and is a block font. The other text samples show text that is too small with thin lines. You will notice that the letters A, R, and B tend to close up making them difficult to read.
What is the size of an embroidered logo?
The standard logo location for embroidered jackets and shirts is the left chest with a logo size of 4 inches wide by 3 inches tall.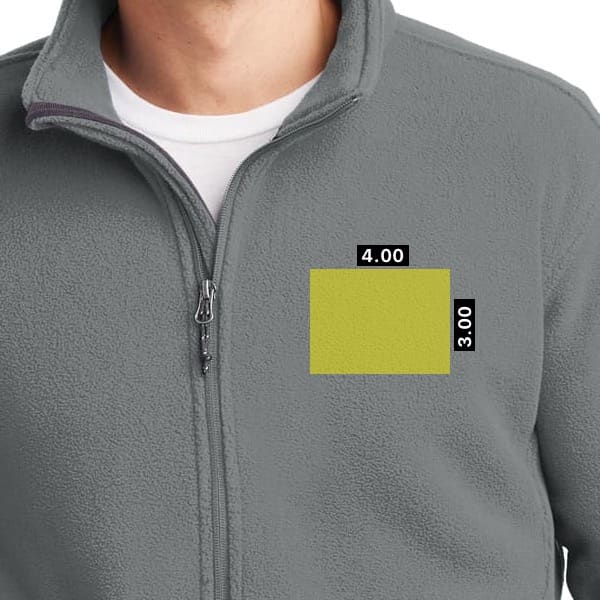 If there is a brand logo the standard location goes on the right chest as shows on this Ladies Patagonia Better Sweater Jacket.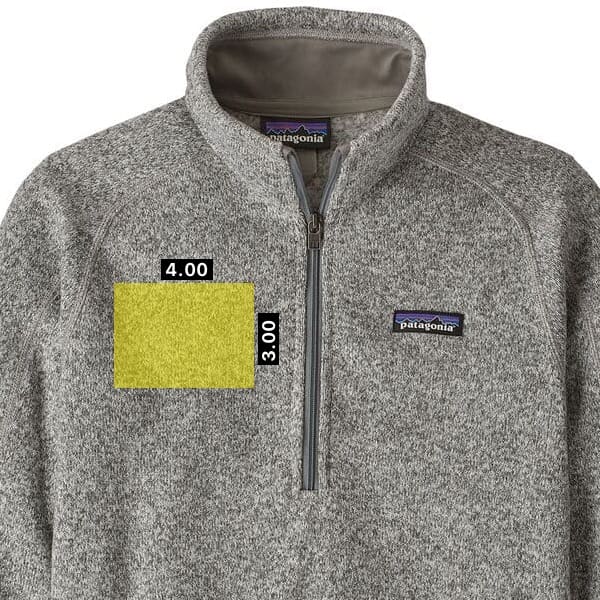 The standard location for embroidered hats is the front center with a logo size of 4 inches wide by 2.25 inches tall.
How many colors can an embroidered logo have?
We recommend your logo contain no more than 6 colors however, we do stitch logos with more colors. Our absolute maximum number of colors in a logo is 9.
Finally…
If you have any questions about artwork and embroidery our team of experts is here to help. Reach out to them at 866-369-5935 or sales@corporatecasuals.com